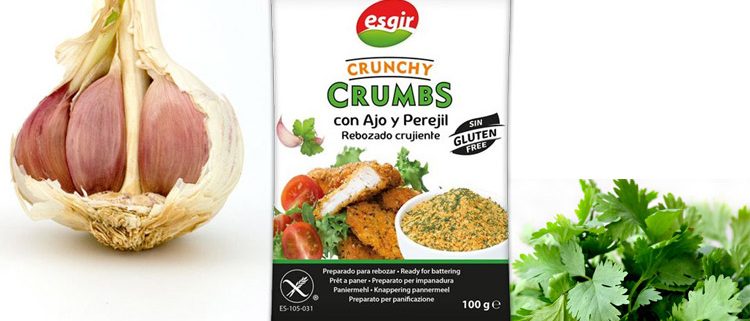 Vegetables, meat or fish are always delicious if they are covered with a good coating. And if you add a touch of garlic, your deep fried foods will be irresistible. If you have not yet prepared a garlic coating or you don't know how to get perfect deep fried foods, you need to taste Crunchy Crumbs Coating mix with garlic and parsley. A good coating with garlic has to be light, golden and crunchy with a garlic touch that makes each bite a delight.
It's so easy to prepare a delicious dish with the coating Crunchy Crumbs Garlic and Parsley. We just have to cover the ingredients with beaten egg before covering them with Crunchy Crumbs Garlic and parsley. Then we have to fry them in hot oil until the coating with garlic turns golden brown. As easy as that.
So if you want to see for yourself, you can try this fantastic recipe:
Little cauliflower trees coated with garlic
Now is the season of cauliflower, so we have decided to try this tasty recipe. These cauliflower trees coated with garlic are very original and healthy. Also, this recipe is a good idea for children who reject vegetables. Children are attracted to coloured and funny dishes, so these little cauliflowers trees with a crisp coating will be perfect.
Ingredients (4 servings):
1 big cauliflower
1 Crunchy Crumbs Gluten Free Coating Mix with Garlic packet
1 egg
Vinegar
Salt
Vegetable oil
How to make it:
First we have to boil water in a large and deep pot. Meanwhile, we wash the cauliflower and cut the green leaves. When the water is boiling, we add salt and place one tablespoon of vinegar to cook the cauliflower for about 10 to 15 minutes, to know if the cauliflower is perfect, pierce the centre with a knife. Remember that the cauliflower can't be so soft, because we will use a coating.
When it is cooked, we have to drain to remove excess of water. Then we cut the cauliflower into florets (little trees). Now we beat the egg and dredge each little tree. Then we have to coat them with Crunchy Crumbs Garlic and Parsley. Heat oil in a large saucepan and fry each floret. When the little trees coated with garlic are golden brown we have to remove them and drain on paper towels. We can serve them with our favourite sauce.
https://esgir.net/web/wp-content/uploads/2018/01/rebozado-ajo-perejil-panko.jpg
480
750
carloshibo
https://esgir.net/web/wp-content/uploads/2016/09/logo-2.png
carloshibo
2018-12-03 12:20:56
2018-12-03 12:20:56
Crunchy Crumbs Gluten free coating mix with garlic