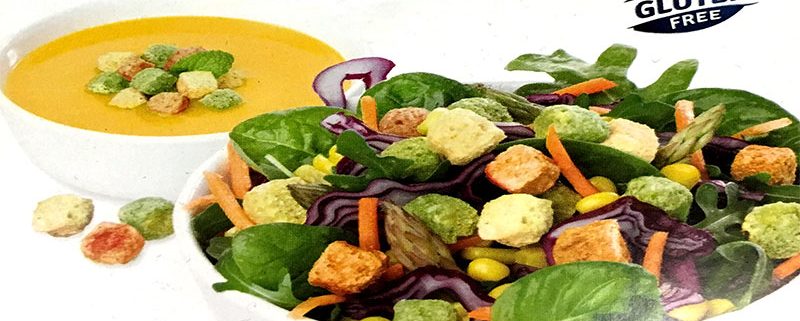 We love adding toppings on desserts. So why don't adding toppings on other dishes? Esgir Croutons are the special touch we need.
Esgir Croutons are delicious and gluten free, unlike other croutons made with wheat flour, Esgir Croutons are made with chickpea flour, a protein source. They don't contain colourings or preservatives, and they are toasted, so they aren't high in fat as most of croutons which are fried, therefore Esgir Croutons are a very healthy choice. Moreover, Esgir croutons don't contain milk or egg, so they are a suitable option for vegans.
We can choose 5 types of Croutons: Natural Crouton, Garlic and Parsley Crouton, Onion and Pepper Crouton, Cocktail Croutons with oil Sunflower and Cocktail Croutons with Extra Virgin Olive Oil. All of them are crunchy and delicious, we can combine their different flavours with a wide variety of dishes.
Now, summer is coming and is the perfect moment to start with refresh summer recipes. Salads and cold soups are perfect dishes to add your favourite Esgir Croutons, they will give that crunchy and special touch.
The next recipe is original and easy to prepare, it is a delicious option for the hottest days.
Cucumber and yogurt soup
This healthy and refresh soup is typical of the Eastern Mediterranean region. It is very nutritious and quick to prepare. We have chosen Onion and Pepper Croutons for this dish. As we can see in the recipe, garlic is optional, if you don't want the strong flavour of pure garlic, you can choose the light option of Garlic and Parsley Croutons.
Ingredients (4 servings):
4 cucumbers
4 greek yogurts (125ml)
Onion and Pepper Esgir Croutons/ Garlic and Parsley Esgir Croutons
½ garlic clove (optional)
Olive oil
Lemon juice (½ lemon)
Mint or spearmint
Salt
Directions
Wash and peel cucumbers, cut them into small pieces. If you want a strong taste, add a garlic clove and chop it. In a bowl of a blender add all the ingredients and blend them until smooth. Season the soup as you need. To serve the soup, sprinkle Onion and Pepper Croutons or Garlic and Parsley Croutons.
https://esgir.net/web/wp-content/uploads/2018/01/picatostes.jpg
471
800
carloshibo
https://esgir.net/web/wp-content/uploads/2016/09/logo-2.png
carloshibo
2018-06-01 12:00:31
2018-06-18 11:39:20
Esgir croutons, the perfect topping for your dishes