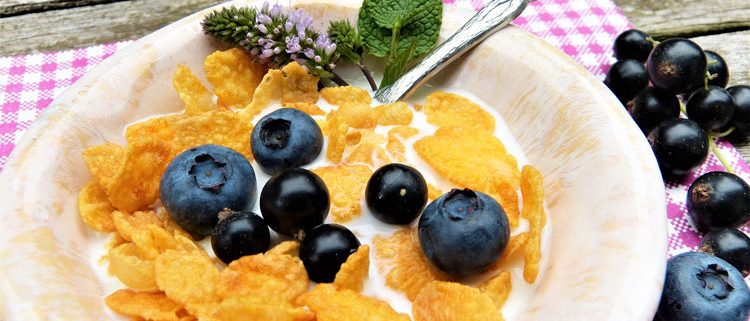 Now it's possible to enjoy Gluten and Sugarfree Corn Flakes. However incredible it seems, corn is a natural gluten free but most of Corn Flakes brands add gluten. If we read the food label, we can see ingredients as malt, a banned cereal if you have gluten intolerance. Moreover most of them have large amounts of added sugar.
So if you are diabetic or coeliac, or you just want to avoid added sugars, you are in luck. Now we can enjoy the classic breakfast with Esgir Sugar free Corn flakes.
Usually we eat Corn Flakes with milk as a typical breakfast, but new ingredients add a creative touch in our breakfast bowls. Strawberries, berries or banana blends very well with Sugar free Corn Flakes. Also we can add different type of nuts or sugar free chocolate chips. Surely it will be your favourite breakfast.
But Sugar free Corn Flakes are not only for breakfast, also we can add them in different recipes, from desserts to principal dishes. So we want recommend you a surprisingly delicious recipe.
Crispy potato wedges with Sugar free Corn Flakes
If you want surprise your guests, this recipe have to be yours. This potato wedges are healthier because they don't have any oil and they are baked. Moreover this potato wedges have an extra crispy touch thanks to sugar free corn flakes.
Ingredients (4 servings)
4 potatoes
1 Sugar free Corn Flakes packet
1 egg white
Powdered cheese
Spices (oregano, thyme, garlic powder, onion powder…)
Olive oil
Salt
How to make it:
First, wash and peel the potatoes. Meanwhile preheat the oven. Then cut the potatoes in wedges and coat them with the egg white. Crush the Sugar free corn flakes and coat the potatoes whit them. Sprinkle all the wedges with the spice mix and the powdered cheese. Put them in an oven tray and add a dash of olive oil. Bake at 428F for 30 minutes.
https://esgir.net/web/wp-content/uploads/2017/12/corn-flakes-sin-azucar-esgir.jpg
480
750
carloshibo
https://esgir.net/web/wp-content/uploads/2016/09/logo-2.png
carloshibo
2018-09-18 09:45:17
2018-09-18 09:47:23
New gluten and Sugar free Corn Flakes!