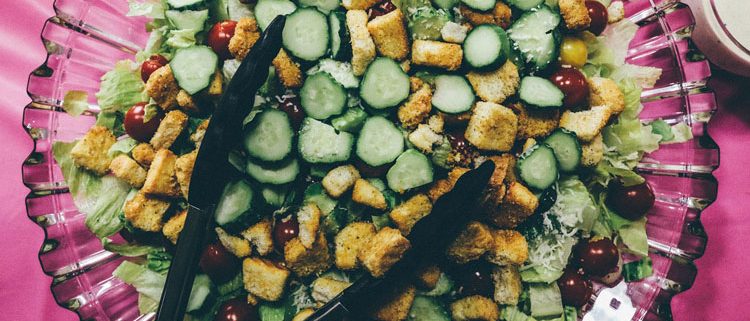 Esgir Croutons gluten-free, give a special touch to your dishes
To give a unique and special touch to your dishes, Esgir has created its Croutons Gluten-free range.
They are so delicious, so once you have tried them in your dishes, we are sure you will try them as snack.
Also, you can bring them anywhere, to the office or picnics, because their packages and little boxes are so handy to bring them everywhere.
These crispy and tasty snacks are free of gluten, dairy and egg, so there are suitable for coeliacs and vegans.
Esgir croutons are made with chickpea flour, a source of vegetable protein, what makes them much more nutritious than the traditional croutons which are made with wheat flour.
Unlike most of croutons, which are fried, Esgir croutons are baked. In addition, they have less than 10 percent of fat and they only contain 1 gram of saturated fat.
For all these reasons, Esgir croutons are the healthiest croutons of the market.
And even though it doesn't look like, Esgir Croutons don't contain any type of food colouring, they are coloured with natural ingredients as paprika, parsley and onion.
You can find Esgir Croutons with 3 different flavours: Natural Crouton, Garlic and Parsley Crouton, and Onion and Pepper Crouton.
You can choose your favourite Croutons, or better yet, you can mix different flavours to give a special touch to your dishes.
Always is a good idea discover new foods and flavours, so you can try healthy and delicious meals each week. So we want to recommend you this easy and original recipe:
Crispy anchovy salad
This crispy salad has a strong contrast of flavours and textures, with salad anchovies, a special dressing and crispy Garlic and Parsley Croutons. When you have tried you will make it again for sure.
Ingredients (4 servings):
1 little gem lettuce
1 box of Garlic and Parsley Crouton
1 red pepper
1 yellow pepper
2 ripe tomatoes diced
1 anchovy can
For the dressing:
4 tablespoons olive oil
1 tablespoon vinegar
3 tablespoons of capers
spring onions
Salt and Pepper
First, we have to wash all the vegetables. Then we chop the peppers and tomatoes. We need to cut each anchovy in half.
To make the dressing, we wash and chop the spring onions. In a small bowl, mix them with the other ingredients to make the dressing.
Put all the vegetables into a large serving bowl, add the anchovies and Garlic and Parsley crouton. Finally cover with our dressing.
https://esgir.net/web/wp-content/uploads/2017/09/ensalada-con-picatostes.jpg
383
750
Esgirnet
https://esgir.net/web/wp-content/uploads/2016/12/logo-esgir.png
Esgirnet
2017-12-29 11:59:40
2017-12-29 11:59:40
Esgir Croutons gluten-free, give a special touch to your dishes