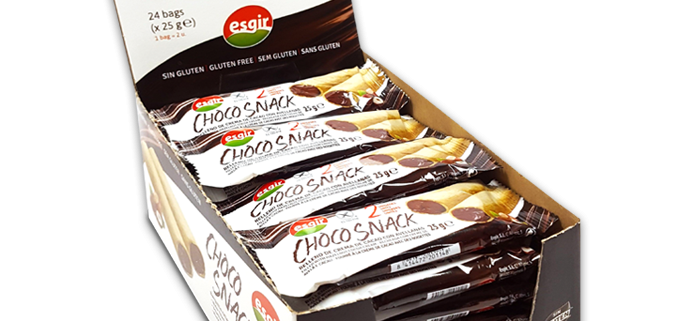 Usually, we feel hungry by mid-morning and mid-afternoon, so we want a quick snack. If you are not celiac, you have unlimited possibilities: cookies, chocolates, granola bars… but when we are celiacs, that's no easy, because almost all snacks are full of gluten or they are cross-contaminated with gluten cereals and we need gluten-free products
For those moments when we feel very hungry and we don't know what to eat, it is Chocosnack gluten-free.
Chocosnack is a delicious rice wafer filled with hazelnut chocolate cream that you will surely love. A sweet snack but also light, perfect to satisfy your sugar craving but without being over sweet.
Chocosnack is available in individual packages, perfect for school and work. Or also you can take it for any trip. And the best is that you can eat chocolate at any time without worrying about it melting.
You can also enjoy Chocosnack comfortably at home, it is perfect with hot drinks as tea or coffee. Another good idea is to add Chocosnacks as a topping in ice-creams, yogurts or desserts as puddings.
If you need more ideas, here you will find a delicious and healthy recipe.
Chocosnack banana milkshake
This milkshake is perfect for a good breakfast or as special snack, it is delicious and healthy because it doesn't contains ice-cream but is so sweet thanks to ripen banana. Moreover we can take it hot or cold, it will depends of the milk temperature. To prepare this milkshake we can use a mixer or a smoothie machine.
Ingredients (2 servings):
2 ripen bananas
2 Chocosnacks
2 cups of milk (it can be vegetable milk)
3 tsp cocoa powder (the amount is optional)
Sugar
Whipped cream
Chocolate syrup
Preparation:
To prepare this milkshake, first we have to peel and cut the bananas into slices. Then we have to blend all the ingredients together until smooth.
You can choose the amount of sugar and cocoa powder according to your taste. To serve it we have to add whipped cream, syrup and Chocosnack. And now we can enjoy this perfect milkshake!
https://esgir.net/web/wp-content/uploads/2018/08/choco-snack-esgir.png
720
700
mackrl
https://esgir.net/web/wp-content/uploads/2016/09/logo-2.png
mackrl
2018-08-08 10:46:51
2018-08-08 10:50:36
Chocosnack, a gluten-free sweet titbit